Students, we have an important announcement:
We have an opportunity for you to make up credits from last semester. 
If you received an F or N for any class last semester, you now how the chance to make that credit up.
YOU

have to contact your teacher for each class you received an F or N

.

This is a great opportunity

Take advantage of it now!

See the flyer below for more information
You have until February 19th to complete the work from the class you received an F or N last semester. 
The end of the semester and year is right around the corner. But do not stress! There are ways to make the end of the year easier on yourself.
1- Make a plan of action with steps to make sure you pass and do well in each class
2- Speak to each one of your teachers and make sure you know what your current grade is and exactly what you need to do to pass
3- Rest. Make sure you get plenty of rest and eat well. You need the energy right now so make sure you are preparing yourself to have that energy
4- Ask for help. Don't be afraid to ask for help. We all need it. Just ask. None of the teachers will say no to you
For more steps on how to reduce your stress and prepare for the end of the semester, click here and scroll through the different stories of advice. 
Our Thanksgiving Dinner Giveaway was as emotionally filling as the food! Thanks to the families that showed up and received their dinners.
It was so great to see the kids and their families. We miss them!
Let Mark Armijo Academy treat your family to a Thanksgiving Dinner, complete with all of the fixings for a family of our. 
Our love for our students and families does not end when school is on break. 
Show up and receive a fully tummy in return!!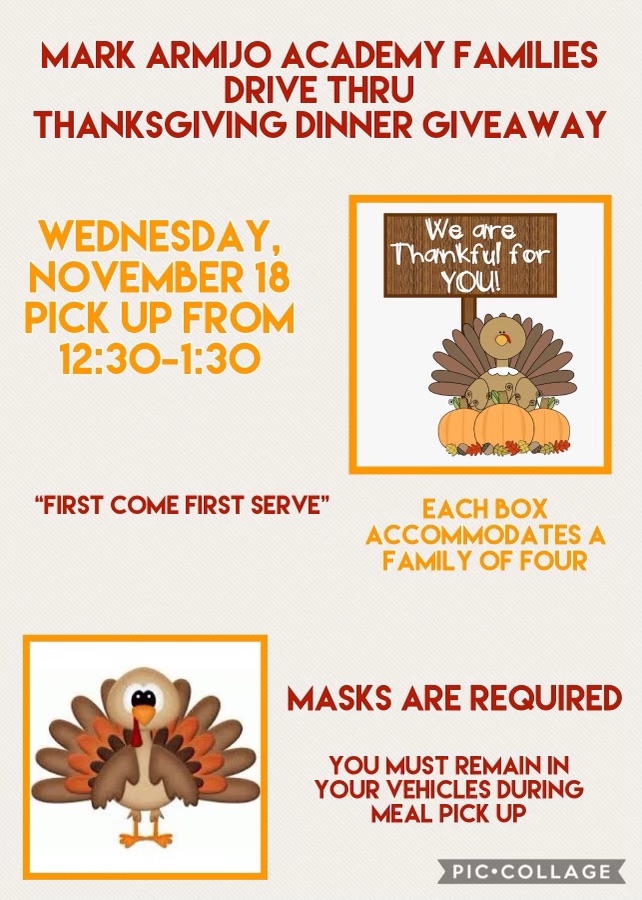 Deje que Mark Armijo Academy invite a su familia a una Cena de Acción de Gracias, completa con todos los ingredientes para una familia nuestra. Nuestro amor por nuestros estudiantes y familias no termina cuando la escuela está de vacaciones. ¡Preséntese y reciba una barriga completa a cambio!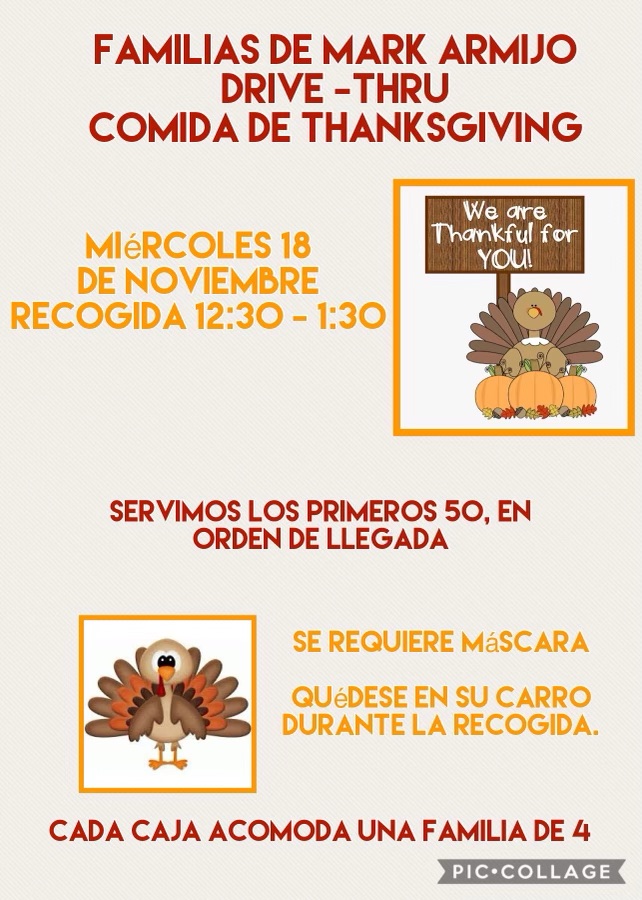 Student conferences are here!!! On November 13th, parents and students will join their cohort teachers for a conference to go over schools news and updates, student grades and concerns, and, our favorite part, to chat and hang out with students and their parents. 
Cohort teachers will schedule conferences with students and parents. 
We can't wait to see you!!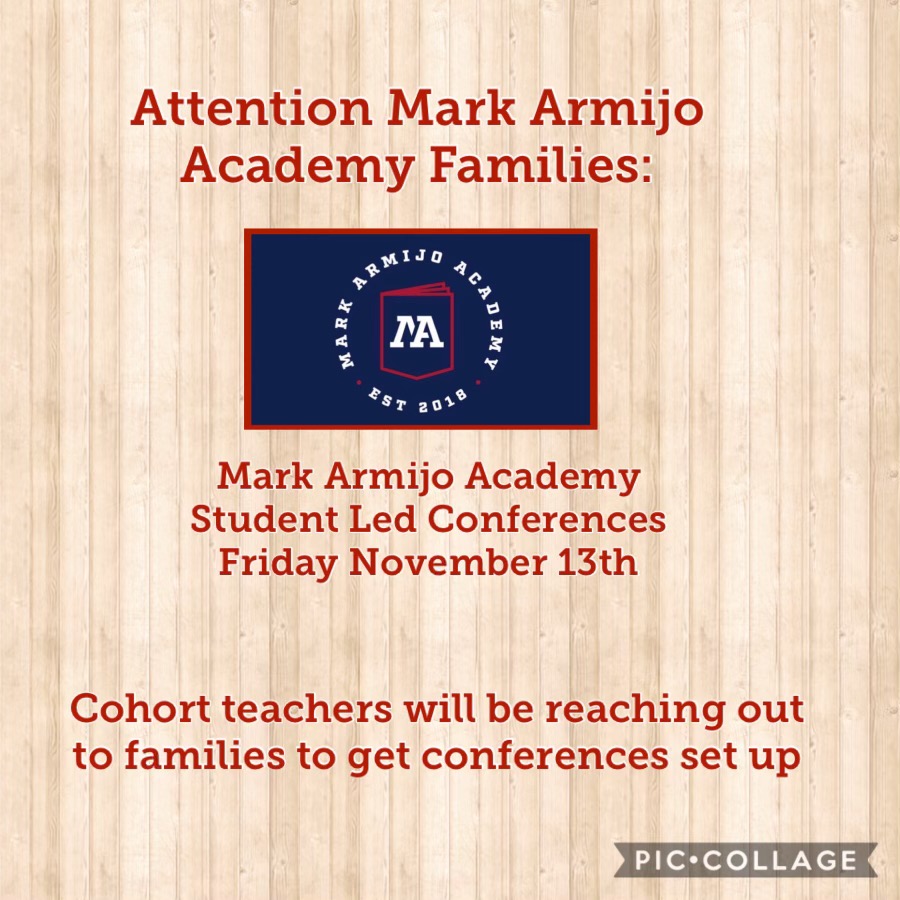 We hosted a drive thru Attendance Celebration to reward and recognize the students that have been showing up to class and doing great work in their classes. We think it is important to continue to recognize students for their success, small and large, as if we were in-person.
It was great to see the students and their families! 
Our Counselors have set up Virtual College Presentations with all of New Mexico's universities. At these presentations, students will learn more about each school, what they offer, and services they provide, such as housing, meal plans, work study, college and sporting events, and overall life on campus, including how to enroll.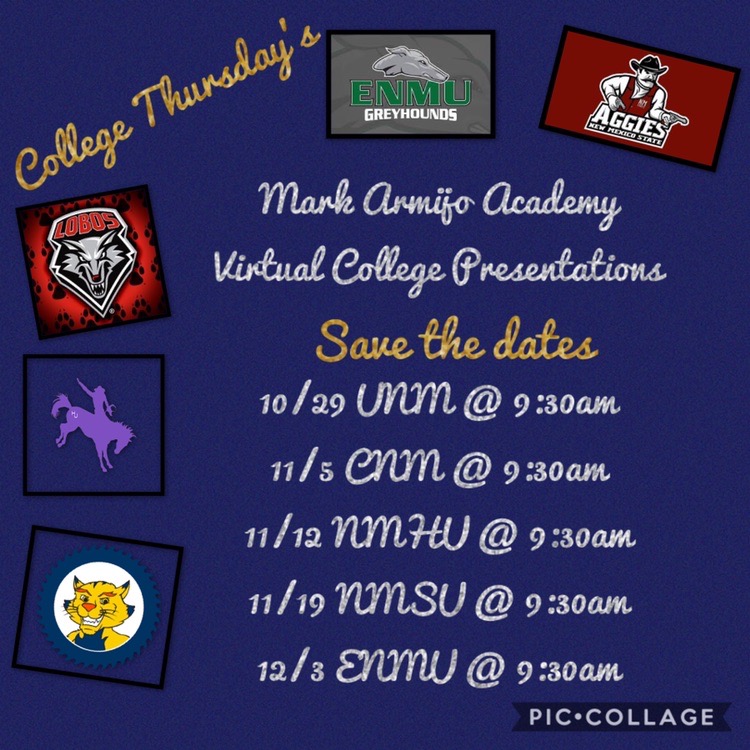 We hosted our first Virtual Open House recently Students and parents form the school joined the staff as they introduced themselves and talked about what they hope to accomplish this year with their students. It was such a joy to see the staff interact with students and parents. We sure do miss being at school!
Seniors attended a virtual FAFSA workshop to learn more about the registration process for financial aid, how to send it to colleges they are interested in, and learn more about the registration process. 
We love this partnership with UNM!