IMPORTANT MESSAGE:
Mark Armijo Academy reopening April 5th
The remote learning model and small group support time will continue until April 5th.
By April 5th, all districts and charter schools are required to provide in-person learning to all students. 
We will be conducting class in-person starting April 5th and will generally be keeping the same schedule. 
We also want students and families to know that returning to in-person learning is OPTIONAL, but also know that students remaining online will complete classes independently and teachers will check in with them periodically. 
Learning in-person will look and feel different due to the pandemic. Also, here are a few guidelines and rules to be prepared for with in-person learning:
– All students need to bring charged Chromebooks to school daily.
– Everyone must wear face masks on campus during the day.
– Social distancing will be encouraged to the greatest extent. Which means NO large activities.
– Food bags will be distributed starting at 12:15.
– Everyone is encouraged to bring their own water bottles, water stations have been installed and are available to fill up reusable bottles.
– Visitors are not allowed on campus.
– In person learning will end at 12:15, however the campus will remain open until 3:45 Monday – Thursday.
Please review the new schedule below.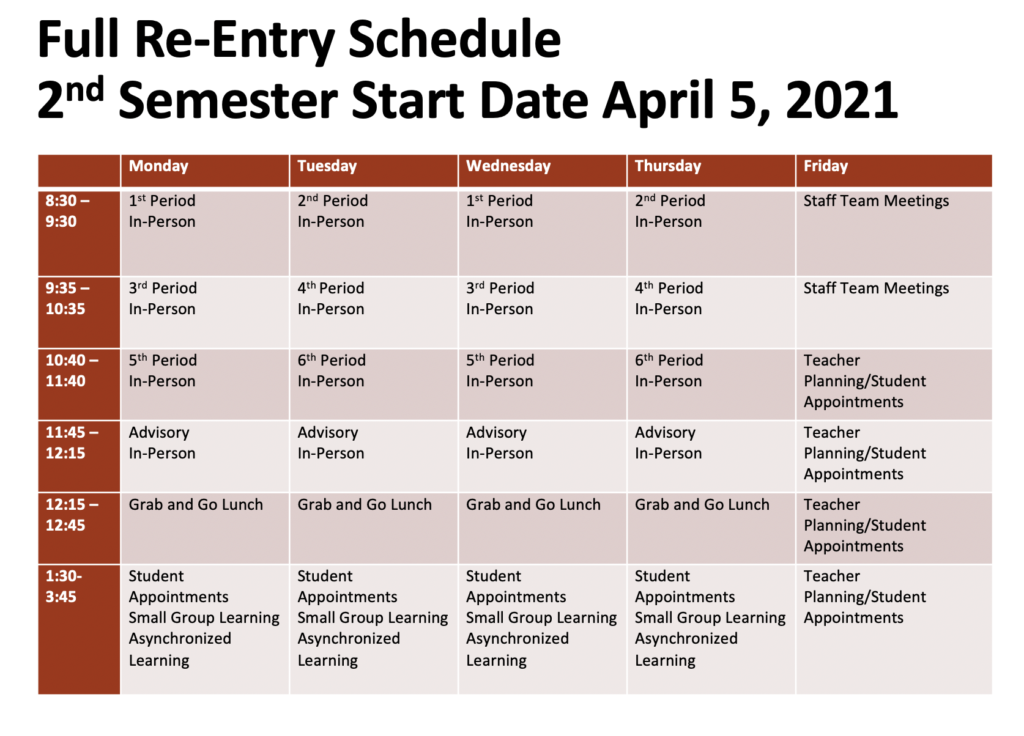 Below is the full schedule for the school for the remaining school year. This includes days off for conferences and holidays. 
If any changes happen, staff and teachers will let you and your student know ahead of time.