Shawn Morris, Executive Director
Shawn Morris is the new Executive Director at Mark Armijo Academy. Read his welcome letter here.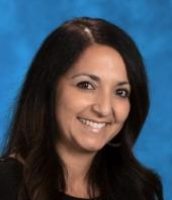 Bernadette Frietze, Principal
Bernadette Frietze is Principal at Mark Armijo Academy Charter School. Bernadette believes that all students will thrive as long as they have a caring adult in their corner. In addition to being a part of the leadership team at Mark Armijo Academy, she also oversees all of the special programs at MAA.
Bernadette holds a BA in Elementary Education and an MA in Multicultural special education. She also has endorsements/licenses in TESOL, Vocational Rehabilitation Counselor, and Administration.
In her spare time, Bernadette enjoys hanging out with her husband and two sons and watching baseball.
Angelica Padilla, School Counselor
Angelica Padilla was raised in the South Valley.  She is a proud mother of her son Andres and daughter Carisse.  She has been an educator for the past 18 years.  As an educator she would like to continue to advocate and empower the youth and families in her community.  She received her BA from NMSU in elementary education in 2003 and MA from UNM in Counseling in 2007.
Angelica Padilla has been the 11th and 12th grade College and Career Counselor at Mark Armijo Academy for the past 8 years. She began her career as an elementary school teacher in 2003 and taught 1st, 4th and 5th grade.  She has recently started teaching Confirmation classes at her Parish.  Her path as a college mentor and Counseling Intern at UNM College Preparatory program led her to find her passion in College and Career Counseling.  In 2008, she became the first College and Career Counselor at Atrisco Heritage Academy where she was able to create a successful college and career program.   She was recognized for piloting the first college and career elementary school in the Albuquerque Public School district.
She currently sits on the FMAA Board from 2015-Present.
Charmain Trujillo, School Counselor
Charmain Trujillo is a school counselor who puts an emphasis on helping students develop their social, emotional, and academic skills. She believes that the counselors at Mark Armijo Academy offer guidance to help students build motivation and success. In addition to counseling students, she also runs the Mark Armijo Academy E-Learning Program and Edgenuity.
Charmain is a native New Mexican who has been an educator for over 17 years. She has been a teacher at both the elementary and secondary levels. She is pursuing a master's degree in Guidance and Mental Health Counseling to better serve the students.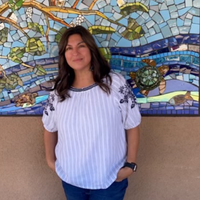 Dana Flores, Director of Community Schools
Dana graduated from NMHU with her master's degree in Social Work and received her B.A. from UNM. She is originally a Norteña from Embudo, NM. She has 20 + years in education and originally started in School-Based Health Services.
Dana is currently the Director of Community Schools and strives to work with the MAA educational community to empower and strengthen opportunities, resources, and accessibility for the MAA community.
Dana values the individual experience and the cultural diversity each student brings and states: "the voice and educational process of a student drives me to work hard with an open mind and open heart."
Dana's expertise is working with the community and families to gain access to resources that can support them in their effort to reach success in education as well as their overall health and wellness.
Dana's favorite moments are spending time with her family and she loves the outdoors, cooking, gardening, and working on personal health.
Michaela Trujillo, Director of Curriculum
Michaela "Mica" Trujillo is the Director of Curriculum and Instruction and works collaboratively with teachers of Mark Armijo to meet the needs of the students. She believes in the power of education and works to empower her community.
Mica received her Bachelors of Science in Elementary and Bilingual Education in 2005 and was an Elementary School teacher for 10 years. In 2016 she received her Master of Arts in Clinical and School Counseling. She has been at Mark Armijo (formerly Nuestros Valores) since 2016. Mica is a proud New Mexican and is proud to work and serve her community.
Coming Soon, Reading Interventionist
Anna Mondragon, English Language Development
Anna Mondragon teaches 9th-12th grade ELD at Mark Armijo Academy.  Anna believes that all students are capable of learning and she thrives on building positive relationships with students.  She believes that strong reading and writing skills are key in helping students be better communicators.
She has 21 years of teaching experience and was voted Teacher of the Year at her previous school.  Anna has a bachelor's and master's degree from the University of New Mexico in secondary education.  She also has a TESOL endorsement.  In her free time, she enjoys reading, spending time with her family, walking her dog, Boo, and watching ID TV.
Coming Soon, English Language Arts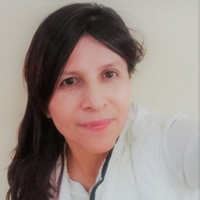 Inez Jacobs, Science
Inez has held numerous positions at Mark Armijo Academy–some of them being: Administrative Intern, GRADS Teacher, STEM Coordinator.
Presently, she teaches Anatomy and Physiology, Biology, and STEM, and is a Senior Advisor. Mrs. Jacobs has had a wide variety of lab-based research experiences since the beginning of her teaching career. More recently, Inez returned to UNM for an intensive summer research experience.  She has worked in laboratories alongside university scientists at the University of New Mexico- Center for High-Performance Materials (2019) Department of Chemistry and Chemical Biology (2021, 2022).
Inez is a strong advocate for community collaboration and has partnered with La Academia De Esperanza Charter High School, Albuquerque Job Corp, Fuse MakerSpace, Wildlife Friends and Yerba Mansa Project.
Inez received her B.S. in Secondary Education from NMSU and her M.S. in Biology from NMSU. She serves as a teacher advisor for the National Education Foundation and was recently named a Project Invent Fellow  2022.  Away from school, Inez loves being outdoors hiking, biking, and running.
Jennifer Maestas, Math
Jennifer Maestas is a  math teacher at Mark Armijo Academy who teaches Algebra 1, Algebra 2, Geometry, and Financial Literacy. Jennifer began working in the public school system in 2007. In 2009 she transitioned to a local high school on the west side of town. She taught at the school for 12 years before transferring to Mark Armijo Academy in 2021. Jennifer holds a master's degree in Special Education, a master's degree in Computer Information Systems, and a Bachelor's Degree in Business from the University of New Mexico. Jennifer is also attending classes to obtain her 3B Administrative License.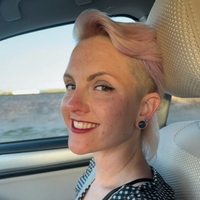 Jessika Esquibel, Math
Jessika Esquibel is a math teacher at Mark Armijo Academy, who teaches Algebra II and Transition to College Math (TCM). Coming from a varied educational background, with endorsements in ELA, modern and classical languages, as well as mathematics, Jessika strives to make sense of what students are learning by connecting the content with something that is meaningful to them in the real world, not just in the world of mathematics.
Jessika believes in a growth mindset and that approach is everything. Not every student learns in exactly the same way. In addition to teaching math, she has a B.A. in Linguistics and Foreign Languages from New Mexico State University (Go Aggies!) and strives to use her skills in language to be linguistically and culturally relevant in the classroom.
Jessika is currently working toward a post-degree certification at CNM in education to continue her teaching career. When she is not teaching, Jessika enjoys spending time with kids and her husband, being outside, climbing, and yoga.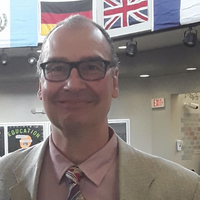 Joseph Crumb, Spanish Language Arts
Joseph Crumb is a Spanish teacher in his first year at Mark Armijo Academy. Mr. Crumb believes strongly in the right of native Spanish speakers to receive significant instruction in their idioma materno. Mr. Crumb agrees with research that indicates literary skills developed in one's first language will transfer to their second tongue. He agrees with research that indicates literary skills developed in one's first language will transfer to their second tongue. Mr. Crumb's goal is to engender students who are not only bilingual, but biliterate, with developed reading and writing skills.
Mr. Crumb taught for 10 years at Cesar Chavez Community School, teaching English Language Arts, English Language Development classes and Spanish. He also managed the school's ESL program.
Mr. Crumb received his bachelor's degree in English and French at Nazareth College in Rochester, N.Y. During his time at Nazareth, he studied for a year abroad in Rennes, France, and spent the following summer traveling in Spain. He holds a master's degree in philosophy from Duquesne University in Pittsburgh. Mr. Crumb also has extensive experience in journalism, both as a reporter and as a part-time copy editor for 10 years at the Albuquerque Journal.
Juliana Flores-Casaus, English Language Arts
Juliana Flores-Casaus is an English teacher who teaches English 9-12 at Mark Armijo Academy.  Her goal is to encourage students to become independent lifelong learners and to be able to comprehend material, communicate effectively and problem solve in order to prepare for adulthood.  She uses her love for reading and writing along with her own personal experiences training in Brazilian Jiu Jitsu to help students step out of their comfort zone, struggle to overcome obstacles and improve their overall self-confidence.   Juliana holds a BA in English from the University of California Irvine and has worked in education for over 20 years mostly in the middle school and high school environments.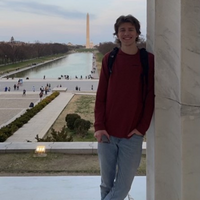 Kellen Wilson, Science
Kellen Wilson is a science teacher who teaches Chemistry, Astronomy, and Forensics. Kellen believes science is one of the most important subjects because of its relevance in students' everyday lives and its universal applicability from basic problem-solving to critical thinking skill development. In addition to teaching science, Kellen will be teaching senate zero-hour and coaching basketball at South Valley Prep. Kellen is working to attain a Secondary Education degree with a minor in Business Administration and Finance from the University of New Mexico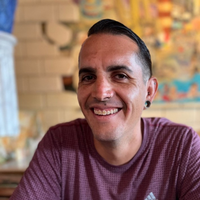 Marcos Esquibel, History
Marcos Esquibel is entering his fifth year teaching New Mexico History and World History at Mark Armijo. He will be teaching Mythology for the first time this year. Marcos believes that it is important for students to be able to form their own opinions based upon the evidence of multiple sources and also identify the bias within those sources in order to understand multiple viewpoints.
He grew up in the South Valley graduating from Rio Grande High School. He is currently a Level II teacher who after graduating from New Mexico State University, with a Bachelor's degree in History, joined CNM's alternative licensure program to become a teacher. Besides teaching history Marcos has also taught Geometry and Algebra 2. He enjoys gardening, reading, and spending time with his two children and wife. He also enjoys rock climbing and running.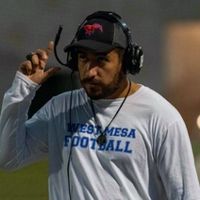 Martin Aragon, P.E. and Health
Martin Aragon is the Health/P.E. teacher; he is going into his second year with Mark Armijo Academy. Martin earned his degree from New Mexico Highlands University in Health Education. He was raised in Grants, New Mexico. Martin's curriculum includes encouraging students grasp content through engaging conversations on different topics, through exam and journal reflections.
Martin believes health can be broken into seven components (physical, mental, emotional, spiritual, private, public, and financial) and he wants students to know the choices they make regarding these health components will impact their quality of life.
Martin possesses skills and expertise with American red cross CPR/AED certified, administered submaximal stress tests, and designed several different diet/workout regimens for individuals from ages ranging 16-86. Martin's hobbies include coaching high school football, practicing jiu-jitsu, and spending time with loved ones.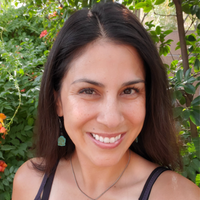 Nicole Vigil, English Language Arts
Nicole Vigil teaches English 11/12 in addition to Creative Writing and Film Criticism at Mark Armijo Academy. Mrs. Vigil believes that education is a tool for self-empowerment and is particularly passionate about language's role in creating opportunities for new learning and growth.
Mrs. Vigil earned her Bachelor's in Secondary Education, Master's in Curriculum and Instruction, and a Master of Fine Arts in Creative Non-Fiction Writing, all at the University of New Mexico.
In her 22 year teaching career, Mrs. Vigil has taught all grade levels, first grade through college seniors. For all grade levels, Mrs. Vigil has successfully developed and implemented a unique board game curriculum in her classroom which fosters students' higher-order skills in critical thinking, creative thinking, and metacognitive thinking.
In 2018, Mrs. Vigil was selected as a New Mexico Teacher of the Year Superfinalist and has been recognized by her students as "Most Influential Teacher," "Most Inspirational Teacher," and "Teacher Making a Difference" throughout her career.
When not working, Mrs. Vigil enjoys long walks in the bosque, traveling, dancing, and organizing anything for fun. Upon retirement, Mrs. Vigil hopes to write a book to and for her students before venturing off to live and teach in small mountain town colleges throughout the southwest.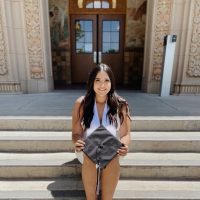 Parris Garcia, Math
Parris Garcia is a math teacher who teaches Geometry and Algebra 1 to 9th and 10th grade students at Mark Armijo Academy. Parris believes that math helps students use logic and critically think while simultaneously being able to apply the concepts learned to their later lives. She values teaching in a way that is adaptable to all different learning styles.
In addition to being a first-year teacher at Mark Armijo Academy, she plans to participate in and organize extracurricular activities. Parris holds a B.S. degree in Public Health from New Mexico State University.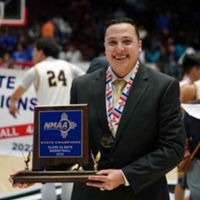 Patrick Baca, History
Patrick Baca is a Social Studies teacher who is entering his 4th year teaching United States History, Economics, and US Government at Mark Armijo Academy. Mr. Baca strives to ensure that his students learn how to be historians while taking that knowledge and comparing it with current events.
After school, Patrick heads to Highland High School where he is an assistant boys basketball coach for the defending 4A State Champions. In 2021, Mr. Baca was awarded with the VFW's Teacher of the Year Award, recognizing his work in the community and for our country's veterans.
During his free time, Patrick enjoys spending time with his 3-year-old son and wife Sydnie.  Patrick holds a BA in Mass Communication with a Minor in History from the University of New Mexico.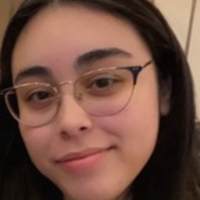 Aylin Grijalva, Teacher
Aylin Grijalva is an Educational Assistant and Assistant Coach for the Volleyball team at Mark Armijo Academy. She helps around the school in the classrooms and in the front office. This will be her second year as part of the faculty at MAA though she graduated from MAA as a member of the Class of 2018.
She is currently working on her Bachelor's in Education at The University of New Mexico. She was born and raised in Albuquerque in the South Valley, and wants to teach in the community to give back.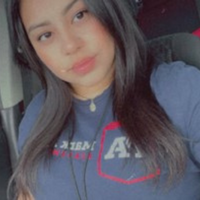 Tania Martinez, Office Manager
Tania Martinez is the Office Manager, Health Assistant, and Assistant Volleyball Coach of Mark Armijo Academy. This will be her second year as part of the MAA Faculty, though Tania was a member of the Class of 2018 at MAA.
Tania is currently attending New Mexico Highlands University to obtain a bachelor's degree in University Studies. Tania plans on furthering her education to become a school counselor. She enjoys traveling and spending time with her family.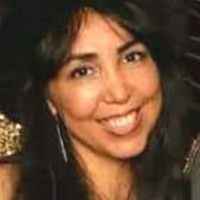 Yanni Padilla, Family Liaison
Yanni Padilla is a Bilingual Educational Assistant and Community School Family Liaison. She is passionate about working, serving and engaging our community.
Yanni believes that building strong relationships within our community and our school gives families and students the tools to learn and develop an important network. She also believes in the importance of excellence and constant communication will help our families that they are part of their children's education and achievements in any areas they participate in at our school.
Yanni is a mother of three children, one of whom graduated from Mark Armijo Academy and another one is a current student. She is a current full-time college student working on earning a bachelor's degree in Social Work.
Yanni graduated from the Colegio Nacional de Educación Publica with a  Business Administration Associates Degree/highschool in Mazatlan Sinaloa, Mexico. She graduated as an honor student and passed her professional test Unanimously.
She has worked as a tutor for homeschool students. She was a director of a Homeschool group Campus in Albuquerque, New Mexico.
Yanni is passionate about sports, she loves to watch soccer, football, and volleyball. She is a former swim coach at Duke City Aquatics and a stroke and turn judge. She also enjoys singing, dancing, and anime.